Renting a Saddle Suit is a nice option for growing children or adults who may be unsure about their future needs.

We maintain a good supply of saddle suits for men, women and children. Shadbelly coats are available in some sizes for women and children.
Professional alterations are allowed but one must not cut and remove excess fabric. Minor alterations (those up to 1") need not be reversed before returning. Please make sure that children keep their jod cuffs turned up while unmounted as hems are easily frayed. Once we receive your sizing information, we'll call or email with a description of the suit(s) available in your size. Your garment can be exchanged or refunded if it does not work out for you.

RENTAL FEES

RENTAL- $200.00 for up to 6 months plus a $50 refundable deposit. Deposits are refunded when the suit is returned with the cleaner's ticket attached and no appreciable damage.

The hang tag on each rental contains the following measurements:

1. SHOULDERS
2. COAT LENGTH
3. PANT WAIST
4. PANT INSEAM
5. BUST

Please see the chart below for measurement details. We will need each of these measurements in order to match you with the best suit. PLEASE COPY/PASTE THE MEASUREMENT FORM BELOW AND EMAIL IT TO US WITH THE SUBJECT "RENTAL". WE'LL GET BACK WITH YOU AS SOON AS WE FIND THE BEST SUIT FOR YOU. No credit card or billing information needed until you've chosen a suit. Thank you and we look forward to serving you!
-------------------------------------------------------------------------------------------------------------

RENTAL SUIT REQUEST FORM
Please complete the following measurement form and email your request to: info@hartmeyer.com


I am interested in renting a... for a...
______ SADDLE SUIT _______ GENTLEMAN
______ FORMAL SUIT _______ LADY
______ SHADBELLY _______ CHILD



YOUR NAME:___________________________ DATE:________


CONTACT#:____________ EMAIL:______________________________
The following measurements should be current and accurate. Please do not guesstimate! Thank you!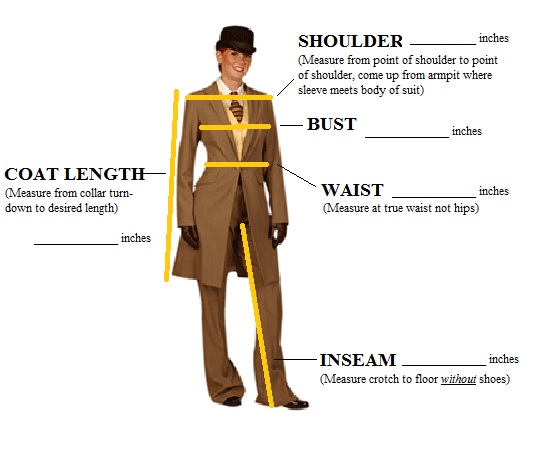 GOING FOR A MORE PERSONALIZED LOOK?
JUST ACCESSORIZE!!!
Create your own colorful customized look with our extensive collection of saddle suit accessories! Try a different vest, shirt, tie or various combinations to create the perfect look for you and your horse!
Want to give the new tone on tone, pattern on pattern trends a try with your new rental?
Have a specific color or pattern you're wanting to pull off?
Give us a call and let us see what we can put together for you or take a spin through our pages above and see what amazing ensembles you can find! The possibilities are endless!!